The Princess of Wale's, Kate Middleton has been a fashion icon for years now. Her outfits always inspire women from different parts of the world. Being a picture of a fashion icon and complete professional, Kate Middleton on her visit to Greentown Labs in Somerville wore a burgundy-colored co-ord set and a blouse with neck tie. She was looking subtle yet prim and proper in this outfit. Want to know more details about her outfit and how you can dress up like that? Read on.
Kate Middleton's Outfit Explained
During her recent visit to Boston, the Princess of Wale's fashionably chose to wear a formal and sleek outfit. Undoubtedly, she was looking extremely elegant as usual and the eye-catching color combination definitely made several heads turn. Here is a complete breakdown of her outfit:
The burgundy-colored co-ord set consisted of a sleek tailored blazer and flare pants by the renowned designer named Roland Mouret. The color as well as the high waist pants flare style was giving a very vintage and classic look which is resolutely Kate Middleton.
She accessorized the burgundy blazer and the pants with a beautiful yet classic pink-colored pussy bow blouse. The pastel color of this blouse along with the deep burgundy co-ord set was making the entire outfit look very 70s.
To complete her entire outfit, she teamed it with a burgundy-colored handbag from Chanel. It is from their 2016-2017 Fall-Winter collection. Also, she was wearing a pair of burgundy-colored pumps giving the entire outfit a touch of elegance and sophistication.
How To Get This Look?
Do you want to get this look for your next official event or any formal events? Then, you are at the right place. Clothing items that you will need are:
Blouse with Neck Tie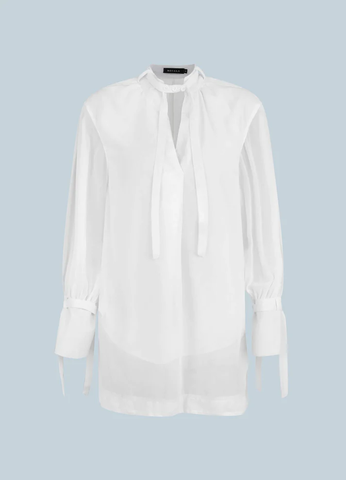 First thing that you will need is a tie neck blouse womens for this look. You can choose any color that you like or prefer. But make sure to choose a light or bright color to go well with a dark colored blazer and pants.
High Waist Flared Pants and Coat
To get the exact look of Kate Middleton, you will need to team up your blouse with a pair of high waist flare pants woman. It is better to choose a deeper color like black, navy or burgundy. To complete the look, layer your blouse with a blazer or coat. Make sure the coat/blazer and the pants are of the same color.
Right Accessories
To accentuate the overall look, you need to choose the right accessories. If you have a pair of pumps that can match well with the outfit, wear it. Keeping it very simple and sleek, take a small handbag. In addition to that, wear studs and a watch or a sleek bracelet.
Conclusion
This is all about the recent most talked-about outfit of the Princess of Wale's, Kate Middleton. As mentioned above, you can easily get this look for yourself too. But make sure not to overdo your makeup or hair with it. Keep it as simple and sophisticated as possible.