When temperatures start to drop, the common mistake among women is to store their summer dresses in the closet. The standard outfit combo for this time of the year is the jacket and pants ensemble, which is common sense since you need to keep yourself warm.
However, just because you need to stay warm in the cold months, doesn't mean you have to say goodbye to all the beautiful dresses that are calling out your name. Yes, you can still wear these dresses, as long as you know what other pieces of clothing to add, as well as adding a few accessories to your look.
And so, without further ado, here are 5 ways you can wear a dress in winter:
1. Layer, Layer, Layer
This is the number one tip for wearing dresses during this time of the year. Wearing a cotton or rayon dress with nothing underneath or over it when it's cold out is harmful to your health. You can still wear the same lightweight dress, but you should have something under and over the dress.
Wear a button-down shirt or a turtleneck top under a sleeveless or spaghetti strap dress, and complete the look by wearing a leather jacket over your outfit. The button-down shirt or turtleneck will provide you with the added warmth you need to keep yourself from freezing.
2. Wear Boots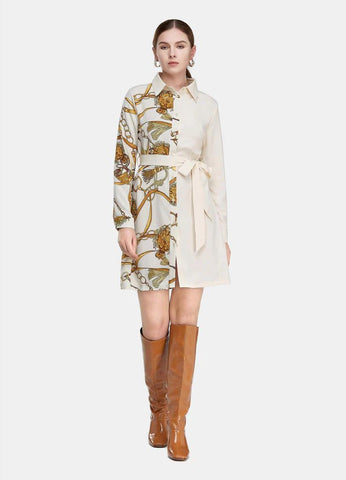 Save your sandals and wedges for spring or summer. It's time you keep them in your shoe closet because winterwear requires closed-toe shoes, specifically boots that protect your toes and ankles from the cold. Wear ankle boots if you're wearing a maxi or midi dress. If you wear a short or mini dress, opt for thigh-high or knee-high boots to cover and protect your legs.
3. Wear Opaque Tights
If you love wearing mini dresses, wear opaque tights with them to cover your legs and keep them warm. Black is always a good idea since it's a universally flattering color and it matches any pattern, color, or texture of the fabric, such as cable knits. Even if you're wearing a knee or midi-length dress, opaque tights are always a good idea for extra warmth.
4. Wear a Long Coat
If you're not wearing opaque tights with a midi or maxi dress, wear a long coat instead. Choose coats in wool, cashmere, faux fur, or shearling material for that much-needed added layer. Though you're wearing a dress, the bottom part of the coat encircles your legs, offering added warmth and protection that you need from the dropping temperature.
5. Wear Skinny Jeans Under a Dress
If you don't like wearing tights or a long, heavy coat, wear a pair of skinny jeans under your dress instead. Opt for skinny jeans so they don't add volume or bulkiness to your ensemble. Wearing jeans goes perfectly well with mini dresses and ankle boots high enough to cover your exposed ankles.
Added Tips on Wearing a Winter Dress for Women
Choose dresses that are in neutral colors like brown, grey, or black to match the season.
Instead of a leather jacket, try wearing a cable knit sweater over a dress for a touch of texture.
Wear a jacket that falls on your waist if you're wearing a maxi dress to give yourself an hourglass figure
Add a pop of color by wearing a red or purple beanie or scarf.
Stick to precious metals for your accessories, such as silver, gold, or brass, which work best for winter outfits.
You don't have to sacrifice looking your best even when it's cold outside. If you love the breeziness of wearing a dress, you can definitely still do so during the winter season, as long as you know how to properly layer your outfit so you don't freeze when out and about.
Dresses don't have to hibernate in the winter. With these tips, you can stay warm and safe, while still looking stylish and flirty in a dress for winter.