Leather motorcycle jackets have been everywhere this year, and with good reason. You must have noticed them appearing in fashion magazines and high-end stores often lately. Whether designers go for asymmetrical cuts, modern biker jacket designs, or retro studded pieces, they always look incredibly cool on the model.
So is this look something you can aspire to in 2023? It is more accessible and affordable than you may realize.
Designer Motorcycle Jackets Look Amazing, But With Their Disadvantages.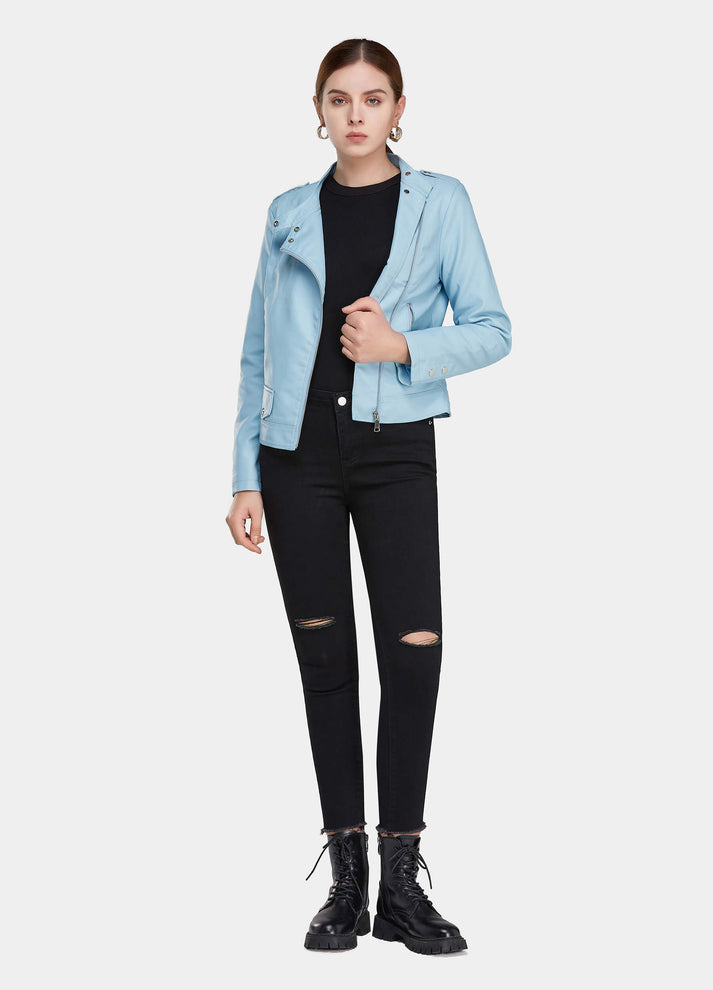 Some of these moto jacket women's designs are a little on the extreme side, so aren't always appropriate for casual get-togethers. The Tokyo-style studded jackets are stunning, but maybe a little intimidating for brunch with the in-laws. Some look too much like you've just stepped off the race track. Also, not everyone wants to buy real leather when there are so many vegan alternatives around these days. Of course, there is also the matter of the high prices.
If you would love a nice understated moto jacket that doesn't cost a fortune, isn't real leather, and is great for any occasion, you are in luck.
You Can Get The Classic Look Without Spending A Fortune.
The asymmetrical shape in many moto jackets women's ranges always looks great. That is especially true with the Mecala PU Leather Moto Jacket. The cut offers all the features you want, with a shorter length, slanted zipper, and strong lapel. It catches the eye without screaming for attention, making it better suited to everyday wear than the overstated biker jackets and studded pieces.
The black version will suit anyone and lets the metallic features shine, while the paler beige and blue look great against some skinny black jeans and a retro shirt. Dress it up or down as needed to make your statement your way. You could also get one in a couple of different colors at this price.
Our Women's Moto Jacket Lets You Rock The Look Throughout The Year.
What makes this jacket even more appealing for 2023 is its three-season functionality. The faux leather material and cut create a motorcycle jacket lightweight enough for spring and summer nights out while remaining warm for those chiller days in fall.
You are sure to want to wear this jacket everywhere and anywhere over the year ahead. The classic asymmetrical style, color choices, and that three-season design all make this possible. So, if you are looking for an effortlessly cool motorcycle jacket for 2023, look no further.